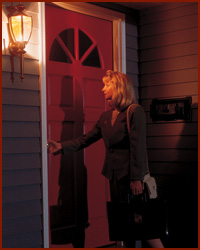 It's your home...It's your business! You have the right to feel safe. Unfortunately, in today's world, you probably are not safe.
Shelby Alarm Company offers you the comfort of 24/7 security. Combining today's technology with old fashion service from a hometown team of professionals you can trust, you won't go wrong with Shelby Alarm Company.
Shelby Alarm Company specializes in home and business security systems. You'll see the Shelby Alarm symbol of safety at homes thru out Cleveland, Rutherford and Gaston Counties. Shelby Alarm is proud to provide the security systems for many schools, community colleges and churches in the area.
Shelby Alarm Company is now licensed in North and South Carolina. To request a free evaluation of your security systems, or a no obligation estimate for an alarm system, please complete our Request Form!